---
The suite life aboard the Venice Simplon-Orient-Express, a Belmond Train
---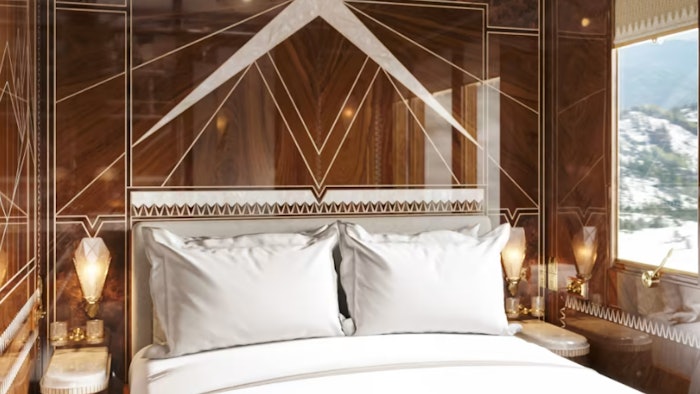 Belmond has unveiled a new cabin category aboard the legendary Venice Simplon-Orient-Express, a Belmond Train, Europe. Eight new suites will join the offerings in June 2023, bringing new heights of luxury and comfort to the original legend of the rails.
Joining the two pre-existing cabin categories, the suites add a new expression of opulence to the train, steeped in history and cared for with the utmost respect in retaining the craftsmanship of the 1920s and '30s.
Two original carriages have been restored by expert French craftsmen and designers, who have reimagined the spaces on board the train while maintaining their golden era of travel look and feel. The design immerses guests in an experience that bridges the train's iconic history and modern comfort, a space in continuous motion, inspired by ever-changing landscapes. Authentic craftsmanship and historical references are infused in the rich layering of the interiors, celebrating the journey itself and creating a haven to savor the quiet moments.
For the epitome of luxury, a stay in a Grand Suite comes with a private ensuite bathroom and shower, double beds that can convert into twin beds as well as a living area from which to enjoy the delights of private dining experiences, 24-hour cabin service and free-flowing champagne.
>> belmond.com
>> Booth E1335