---
Huntington Place showcases stunning sculpture
---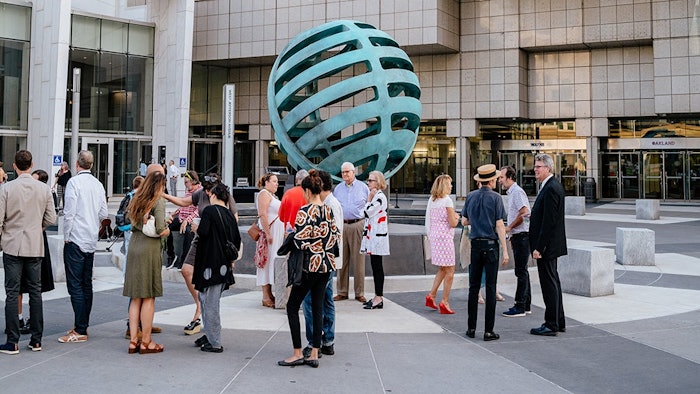 Huntington Place and ASM Global have unveiled "Floating Citadel," an eye-catching public art outdoor sculpture by internationally acclaimed artist Scott Hocking, in the main circle drive of the convention center.
The Detroit Regional Convention Facility Authority (DRCFA) commissioned the 11-foot diameter sculpture after selecting Hocking through a national competition launched by the DRCFA Art Foundation.
"Huntington Place offers visitors a freely accessible art collection featuring local artists from all mediums: painting, glass, frescos, murals and a variety of sculptural forms," said Karen Totaro, general manager. "It reveals the area's unique culture and gives historical meaning to Detroit."
The sculpture rests in the center of an architectural focal point for the convention center, the middle of a circular drive in front of the outdoor riverfront terrace Huntington Place Square and under the 4,000-square-foot marquee digital sign that illuminates downtown Detroit. It can be seen through floor-to-ceiling windows in the venue's main public food court. The sculpture takes its name from the original walled village boundaries and its defensive core, "the Citadel," which was situated where this sculpture stands. 
>> huntingtonplacedetroit.com
>> Booth C4419