---
Sustainability at the core of Oceandiva London
---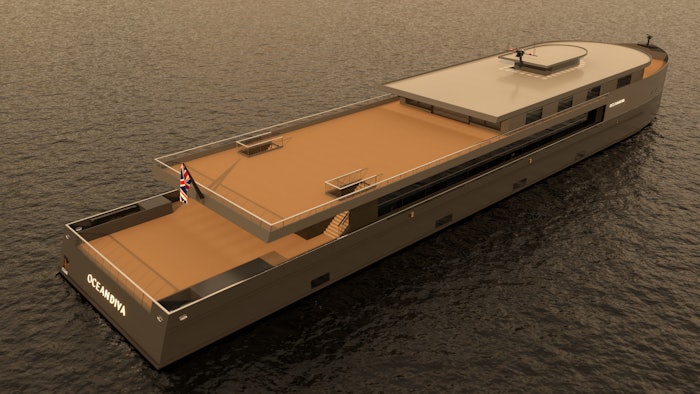 Oceandiva London is set to be the UK's first CO2 neutral events and hospitality venue on the River Thames. As part of the fall 2022 launch, a series of electrical charging points will be installed at several points along the river—from London Bridge to Greenwich—encouraging other vessels to follow suit.
The vessel will play an essential part in developing sustainable environmental practices along the river. This is part of a wider drive to bring an electric highway to the Thames, taking more cars off the roads and steering toward a more sustainable future for London and the river. Thames Clippers is set to follow in Oceandiva's wake, with its first-ever hybrid high-speed passenger boats arriving in the capital this winter.
"We are delighted that after several years in development, London will become home to the new carbon-neutral Oceandiva London," said Tracey Halliwell, director of business tourism at London & Partners. "Oceandiva London will attract international brands to the city, who share London's eco credentials, for high profile incentives, product launches, receptions and private celebrations."
Measuring 282 feet long and 55 feet wide, spanning three decks, Oceandiva London will host a range of both corporate and private events, inside and al fresco, for up to 1,500 guests standing and 560 seated.
The vessel, which is owned and operated by Smart Group, will boast modern architectural design with the latest marine technology, featuring noise-reducing electric engines. With sustainability at its core, Oceandiva London is committed to leading the industry in minimizing its impact by using advanced technology and environmental practices.
>> oceandivalondon.co.uk
>> Booth E2107