---
W Bogota Hotel is an exercise in the exotic
---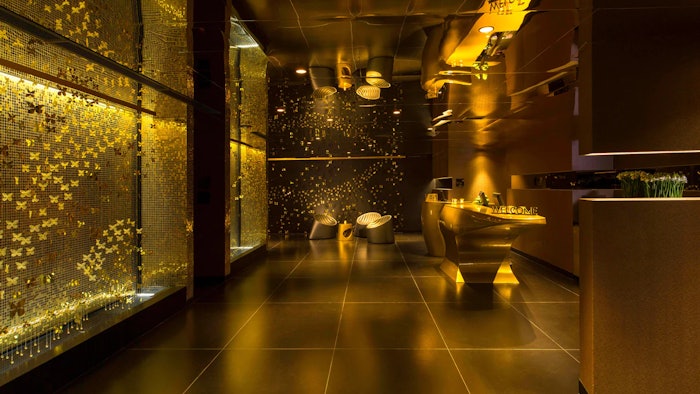 When W Bogota opened in the Colombian capital, it ushered in a new era of cool for a city that has been flourishing in recent years as a safe, affordable and culturally rich destination.
The hotel's entire design concept follows the famous legend of El Dorado, a regional folktale that involves an ancient tribal chief who would cover himself in gold before jumping into a lake to wash it off. The buried treasure was said to be found at the bottom.
Subtle nods to gold, buried treasure and nature are everywhere in the hotel. The lounge and lobby shimmer in gold strings suspended from the ceiling as if guests were passing through golden waves. These represent El Dorado's beads of gold falling to the bottom of the lake. Elsewhere in the hotel, the low lighting is meant to evoke the entrance to a gold mine.
The new concept restaurant Jairo serves three meals a day focusing on Colombian cuisine using as many local ingredients and recipes as possible. "Night brunches" are a favorite of locals and guests. They include bottomless drinks and food stations spread throughout the hotel. The desserts and pastries alone are works of art.
The W Bogota is known for its regular special events, or happenings. They include an eclectic mix of culinary and music experiences, drawing interest from the neighborhood. Guests can order up drinks and tunes from the hotel's "vinyl menu," a cocktail menu that pairs craft cocktails with popular music.
>> marriott.com/en-us/hotels/bogwh-w-bogota/overview
>> Booth D3018