---
Visiting the Top Gun house is even sweeter today
---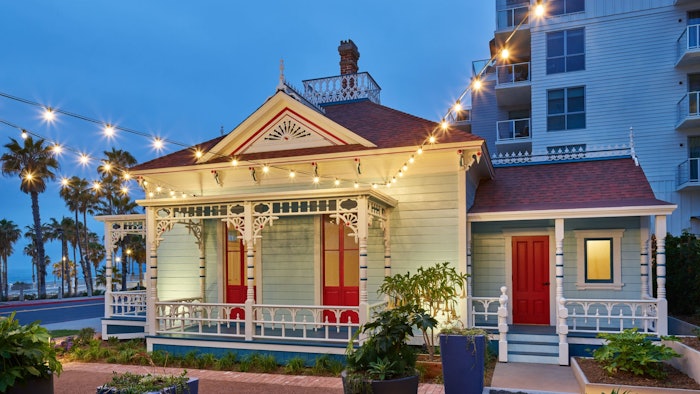 With the release of Top Gun: Maverick, moviegoers everywhere were able to revisit the San Diego area on screen for more adventures from Tom Cruise's Maverick. Although moviegoers won't be getting back together with Cruise's love interest, Charlie, played by Kelly McGillis, visitors to Oceanside, California, can now visit the site of her cute cottage—and eat some pie while they're there.
In the original film, flight instructor Charlie lived in an oceanfront Victorian known as the Graves house. The petite 1887 cottage has now been moved a few hundred feet from its original location to the grounds of Oceanside's recently opened Mission Pacific Resort, where it houses High Pie, a Top Gun-themed pie shop along the beachfront promenade. Developers S.D Malkin committed to save the house while constructing the beach resort, restoring the dilapidated bungalow to its original sky-blue color.
Decorated with photos of Maverick and Charlie, antiques and vintage art and furniture, High Pie also offers ice cream-stuffed hand pies, cherry soda and apple kombucha. The pies are gluten free and are served with sauces including sea salt caramel and lemon curd.
>> missionpacifichotel.com
>> Booth E2143