---
On our way back to Mandalay Bay!
---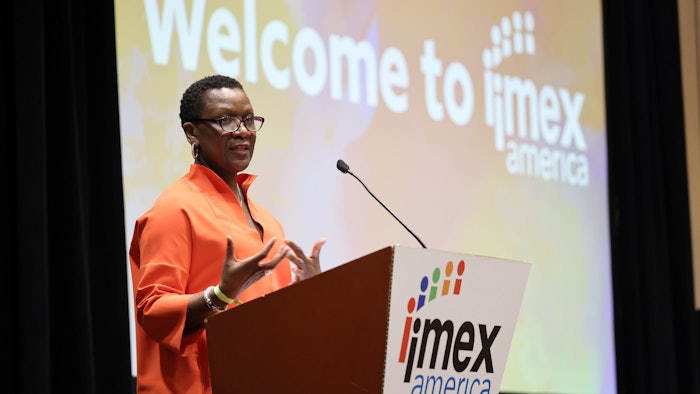 With just a few short weeks to go before we return to Mandalay Bay, we're making final plans and preparations as we look forward to welcoming you back to IMEX America's fabulous desert home.
You can expect insight, intelligence and clarity from our education program, equal doses of glamour, laughter (and sweat!) at our networking events and endless opportunities to connect with our global business events community on and off our show floor.
Our expanding exhibitor line-up includes destinations from Abu Dhabi to Australia, the Dominican Republic to Dubai, Hawaii to New Zealand and the Czech Republic to Ras Al Khaimah, alongside destinations throughout North and South America, and all the big-brand hotel groups including ALHI, Four Seasons Hotels and Resorts, Hilton, IHG Hotels & Resorts and Marriott International.
Lighting up Las Vegas are our headline events including the Association Leadership Forum, Corporate Focus, Executive Meeting Forum, She Means Business, stellar MPI keynotes—and, of course, the smartest of Smart Mondays, powered by MPI.
We're cutting through the noise with our Pathways to Clarity education program throughout the show, helping you to make sense of our ever-more-complex world with standout speakers, insight, intelligence and clarity. Locations include our show floor Inspiration Hub and IMEX-EIC People Planet Village, and making its Las Vegas debut is our new Listening Lab.
However you want to experience IMEX America, from meditation in the Be Well Lounge to Orangetheory HIIT from the PCMA Foundation, pounding along The Strip for the IMEXrun, admiring the spectacular views from Drai's at the MPI Foundation Rendezvous or heading to the top of the leader board for the Maritz Global Events Sustainability Challenge—we cannot wait to welcome you to the heart of our business events community.
Association Leadership Forum is created by ASAE and sponsored by Amsterdam Convention Bureau. Be Well Lounge supported by Leadership Solutions International. IMEXrun developed by VOQIN. Inspiration Hub sponsored by Visit Detroit. Maritz Global Events Sustainability Challenge is presented by Caesars Entertainment and powered by Heka Health. MPI Foundation Rendezvous sponsored by Caesars Entertainment. She Means Business is a joint IMEX and tw magazine event, supported by MPI.