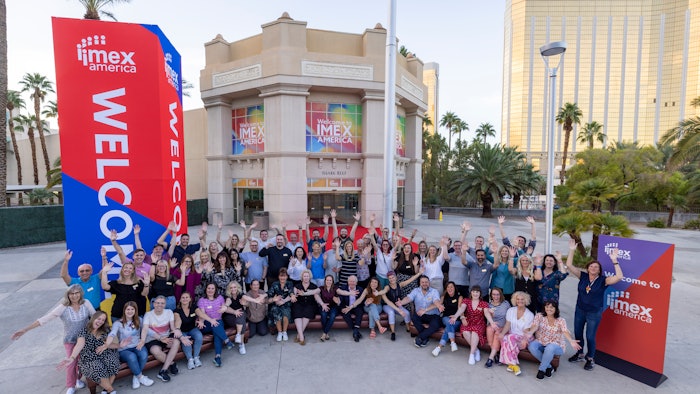 Today
Our exhibit hall throws open its doors for IMEX America 2022 at 10 a.m., but before you step out onto the iconic IMEX red carpet and dive into the day's appointments, make time for MPI keynote Jen Coken. She'll be setting us up for the day with "The science of self-sabotage: Making imposter syndrome your superpower" at 8:30 a.m. in the North Convention Center.
If your morning coffee hasn't quite hit the spot and you still need a kickstart, head to the Hitsville Theater at the Inspiration Hub (sponsored by Visit Detroit), booth F606, at 9:30 a.m. for music, movement and connection.
Circle back to the Inspiration Hub at 11 a.m. and enter the Spirit of Detroit Theater for the Neu Project launch powered by Google Experience Institute (Xi), an initiative to empower event professionals to design events that are more considerate and inclusive of all neurotypes.
Make you way across to the other side of the exhibit hall to Encore booth C4470 to immerse yourself in Break Free, an interactive experience running throughout the show, designed to enable you to discard conventional thinking and re-evaluate your purpose and direction.
Before you leave the exhibit hall for the day, make your way to the Tech Concierge Desk booth C4648 for a glass of mock mimosa and to network with other event tech enthusiasts at Women in event tech mocktail hour from 4 p.m.
Tomorrow
If you haven't yet experienced a sublime Las Vegas sunrise, the IMEXrun (developed by VOQIN and sponsored by Vancouver) is your golden opportunity. Make your way to the Daylight Beach Club at 6:45 a.m. to see the sun come up over the distant Mohave Desert hills—and to join the IMEXrun community for a joyful jog, run or sprint along the Strip.
Building on the joy of community, community builder par excellence Shane Feldman, will be taking the stage for the MPI keynote at 8:30 a.m. in the North Convention Center—with his leadership passport to building better relationships and creating engaged communities. See you there, IMEXers!