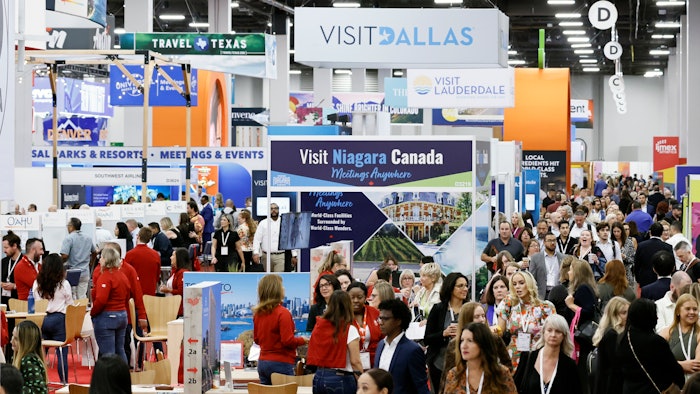 Today
Not to be missed this morning is today's MPI keynote in the North Convention Center from Count Me In's Shane Feldman as he gifts us his leadership passport to building better relationships and creating engaged communities at 8:30 a.m.
If you're in need of a midweek reset, head to the Be Well Lounge at 11:00 a.m. for a strengthen-your-day meditation with Holly Duckworth, Leadership Solutions. You might just see a few of the IMEX Daily News team there! Still feeling weighed down? For an entirely different uplift, drop your business card in at the Zero G booth D3560 today to win a seat on a zero-gravity flight.
Make your way to the IMEX-EIC People & Planet Village booth F706 at 12 noon for Sustainability and the circular economy: what the future holds from Aurora Dawn Benton and Benoit Sauvage. And while you're there, pick up a delicious juice from the Planet Plenty Juice Bar sponsored by the World Wildlife Fund.
Inspired to step up your sustainability? Make the Fill it Forward booth C4539 your next stop for a Cupanion bottle, a reusable water bottle that's part of an initiative to bring clean water to those in need.
Wednesday night at IMEX America means just one thing: the MPI Foundation Rendezvous. So, at 10 p.m. gather your friends, colleagues and your dancing shoes, and head up to Drai's spectacular rooftop for a night to remember (book your ticket today).
Tomorrow  
There's only one way to start your last IMEX day and that's with a dose of BDNF (brain-derived neurotrophic factor). Get yours at David T Stevens Bodyweight bootcamp at 6:30 a.m. in the North Convention Center.
Armed with your newly acquired BDNF, join MPI's Nancy Snowden at 8:30 a.m. at MPI booth F707 for On the playground—ditch the whiteboard wipe out and unlock your creative problem-solving potential.