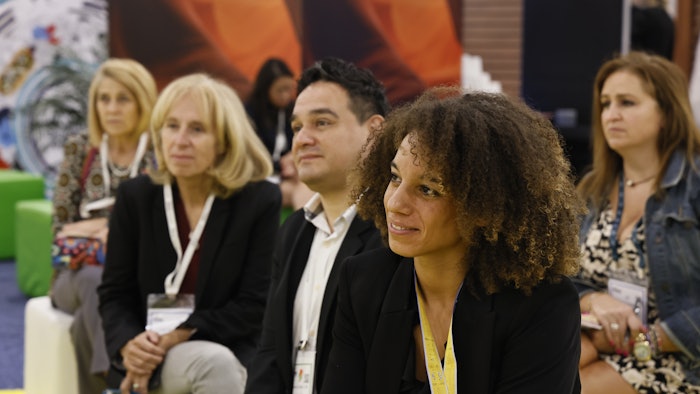 Today
Can it really be Thursday? IMEX speed does appear to mean light speed. So, here's our editor's suggestion for making the most of one last amazing day at IMEX—if you're lucky enough to have any time to spare between appointments that is.
8:30 a.m. at IMEX is MPI keynote time, right? Not today as it's Unkeynote time with MPI's Nancy Snowden at MPI booth F707 for On the playground—as she invites all of us to unlock our problem-solving potential.
Between 10:30 and 11:30 this morning, Wynn Resorts (booth C4039) are offering a taster of the Wynn Las Vegas and Encore Forbes Five Star spa experience. Much needed for those of us who may have got slightly carried away on the dance floor at the MPI Foundation Rendezvous at Drai's last night.
And for the ultimate in pampering, and a touch of royal treatment, stop by booth F1019 for a chance to win a two-night stay in a Royal Theme Suite at The Athenee Hotel Bangkok, built on the site of a former royal palace.
Event tech is always big news at IMEX. If you haven't been on a Tech Tour yet, head to the Tech Concierge Desk (booth C4648) to meet the DAHLIA+ team for a 30-minute guided tour of our event tech exhibitors at 11 a.m. And following that, head into the More Than Experience Lab at the Inspiration Hub (booth F606) for the forthrightly named, What the heck is the metaverse and what does it mean for event design? with DRPG's Nick Fagan.
By the last day at IMEX, the IMEX Daily News team are 80% coffee (and 20% WWF Planet Plenty juices—it's all about balance), so if you're in need of a caffeine fix, we can report, with quite some depth of experience, that the coffee at both Discover Puerto Rico, booth D2633, and ProColombia, booth D3018, is pretty IMEXamazing.