---
A street-to-skyline transformation in Omaha
---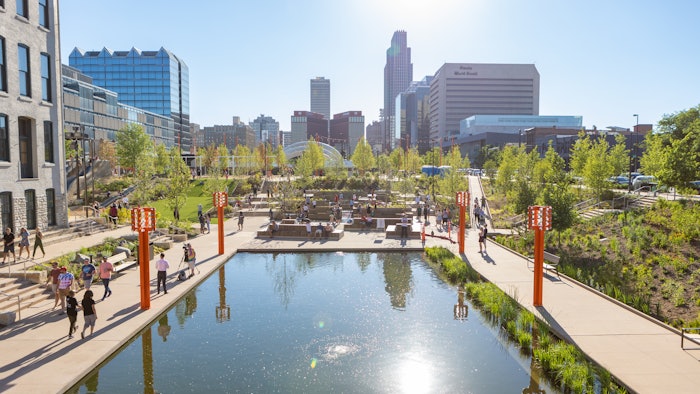 Omaha is investing more than $8 billion in development that will reshape the convention attendee experience. One exciting development, The RiverFront, is a $300 million transformational development with three distinctive components.
Gene Leahy Mall in the heart of downtown Omaha has been a central gathering place since its creation in the 1970s. The transformation process raised the former outdoor mall to street level, adding more than 40,000 square feet of lawn space. Exciting new amenities include a performance pavilion, modern playground, interactive water features, a sculpture garden and dog park.
Heartland of America Park, which opened in 1990, is the largest of The RiverFront's developments and runs alongside the Missouri River. Popular existing features, such as a lake and a fountain that projects water 300 feet into the air and features a nighttime light show, will remain. Scheduled to reopen in 2023, the park will also feature a skate ribbon, lakeside amphitheater, bocce courts, an extensive event lawn, and picturesque pier that extends to the river.
The renovation of Lewis and Clark Landing, which will reopen in 2023, will improve river access and visibility while providing new amenities. A contiguous trail system will remain, with the redesign adding trees and pockets of green space throughout. Additional new features include a destination children's playground, urban beach, sand volleyball courts, pickleball courts, an event plaza to accommodate carnival rides and a renovated marina.
>> visitomaha.com
>> Booth C4161