---
BestCities to host breakfast session
---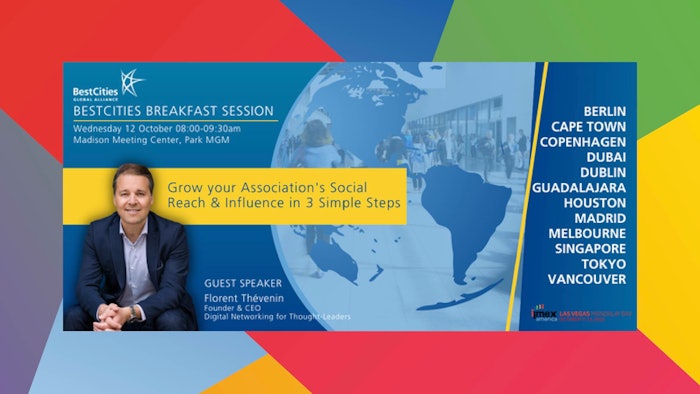 Want to know more about how today's savvy leaders and organizations use social networking, social listening and social selling to outcompete their peers? Find out at the Best Cities breakfast session from 8-9:30 a.m. on Wednesday, Oct. 12, at the Madison Room 9, Level 2, Madison Meeting Center, Park MGM.
The breakfast, also an interactive education session and networking event, is open to representatives from international associations, corporate meeting planners, PCO/AMCs, BestCities partner destinations and media.
Topics will include:
Position your organization as a thought leader.

Influencing your industry, lead the conversation and become the go-to resource for your current and future members.

Unleash the power of your ambassadors.

Give your team members the tools to connect with your professional community, tell your story and humanize your brand.

Leverage the power of social networking.

Use the two-way nature of social networks to find, engage and attract your future members, funders and partners.

Practical take-aways

All participants will be given an action plan to get started and have the opportunity for 1:1 meetings with guest speaker Florent (Flo) Thévenin, founder and CEO of Digital Networking for Thought-Leaders (DN4TL) to get practical advice and tips.

 
As a natural communicator, leader and entrepreneur, Thévenin has produced multimedia projects globally since 2008. In 2017, he co-created TheFutureEconomy.ca, a Canadian-focused site of leader interviews on the future economy, and built an influential national network and social media following in the process.
Places for the session are limited, so register today to secure your spot!