---
PCMA Convening Leaders 2022: This Is Our Time
---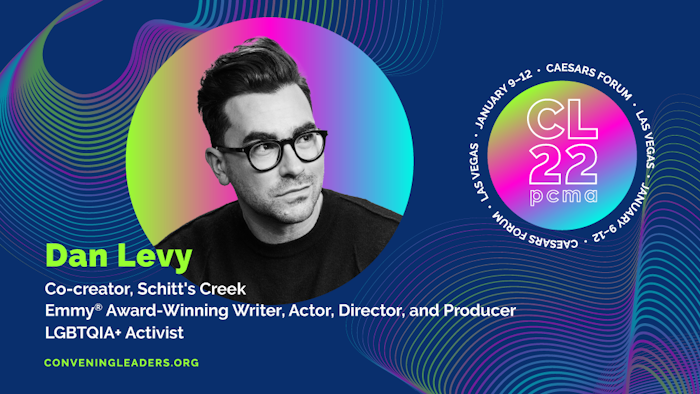 2022 will be a significant turning point for the business events industry. For two years we have been reflecting on our purpose and what matters to all of us in a changed world. If you're not with PCMA at Convening Leaders 2022 (CL22) January 9-12 at Caesars Forum in Las Vegas, you're missing out on how we will challenge new ways of doing business and find ways to drive commerce while building on community. The best content to help you prepare for challenges and opportunities in a post-COVID world can be found at CL22.
It is there that PCMA will launch a movement to inspire audiences to rebuild two years of lost human connections, inclusivity and innovation Each area of focus is designed to relay key insights, lessons learned, and actions you can take to position your audience and your business for success—and help you build long-term resiliency in the face of continuing change.
To help PCMA launch this movement is Dan Levy co-creator of "Schitt's Creek" and actor playing the character David Rose. Levy is an LGBTQIA+ activist revered for his stories of inclusion and authenticity. During CL22 he will share his personal journey and how to use creativity as an outlet to overcome obstacles, boost confidence and pursue one's dream during "A Conversation with Dan Levy" on Monday, January 10.
Visit the PCMA booth to learn more about CL22 and register today at conveningleaders.org. 
>> pcma.org
>> Booth D1303