---
Take time before you sign to save yourself thousands on venue contracts
---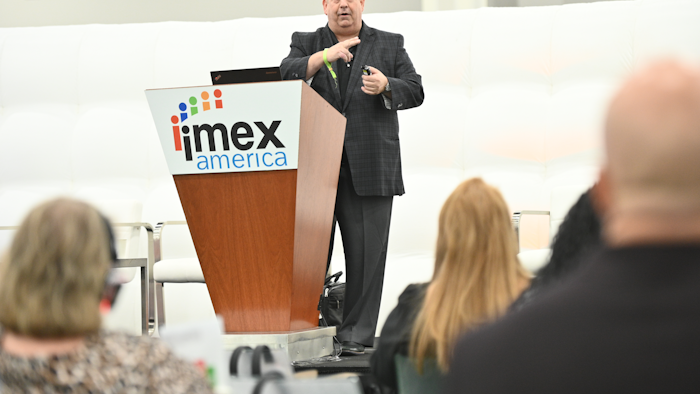 Negotiating a contract with a venue can be a headache-inducing process, especially when it comes to your AV needs. You may be so glad you found a venue that you just want to sign the contract and get it over with.
But Scott Frankel, president of Animatic Media and Conference On Demand + LIVE, says not so fast!
"You find a space that works for you and all you want to do is sign," he said. "I'm going to tell you, take the time NOT to do it right away. You haven't gotten a fraction of the information you need in order to know what your cost factor is going to be for that event."
Frankel told the crowd gathered on Tuesday at the Inspiration Hub for his presentation, "AV & Venue Contract Negotiations for Planners," that however strong that temptation to sign may be, there are some things you should negotiate first—especially when it comes to AV.
"It's one of the biggest line items in your budget," he said. "Doing this right or doing this wrong could be the difference maker for a successful event—especially from a profit or revenue standpoint."
One of the big questions when it comes to AV is, do you bring in an outside company or use the in-house crew supplied by the venue? Frankel said bringing in your own team does have its advantages.
"I've got a great relationship with in-house vendors, and we do use them 10% of the time," he said. "But what we've found is if you have an outside AV company, their whole livelihood depends on updating and maintaining their gear. We generally don't like to use in-house AV on larger programs because you never know what you're going to get. You will find some of the finest professionals working for in-house AV-and you'll find a whole lot of other people."
When it comes to contract negotiations it's important to know exactly what is negotiable. Frankel said the answer to that question is pretty much everything.
"The truth of the matter is, almost everything is negotiable," he said. "They're going to try to make you think it's not. They're going to tell you 'This is our standard contract, and everyone signs this,' but that's not the case. You have all the power before you sign that contract."
Frankel said it is extremely important to read the fine print and ask questions of the person who gave you the contract.
"For the most part, you're too damn nice," he said. "You're very accommodating people. But if something doesn't fly with you and doesn't make sense, don't be afraid to ask about it."
Some contract items Frankel said you might want to consider when it comes to negotiating AV costs include:
Knowing when you can set up in the rooms you need
Outside vendors and any restrictions there may be on using them
Electrical concerns, including dropped vs. wall power and power strips
Internet and whether it's hard wired or wi-fi and whether your team members will have access to it while setting up before the show
Load in/load out liaisons: Sometimes the venue will want their own people present to monitor your people, so know how many there will be, what they will cost and what days you will be loading in
The clear plastic that protects the carpet during loading:  Many times venues will require in-house for this and charge you thousands of dollars
Frankel said there are hundreds of items that—if you aren't careful—could cost you and your clients a lot of money. The bottom line, he said, is get a quote up front before you sign anything.
"You have the power to take the handcuffs off if you do this work at the beginning of the process," he said. "You will be a hero for your clients, and you will save them tens of thousands of dollars."