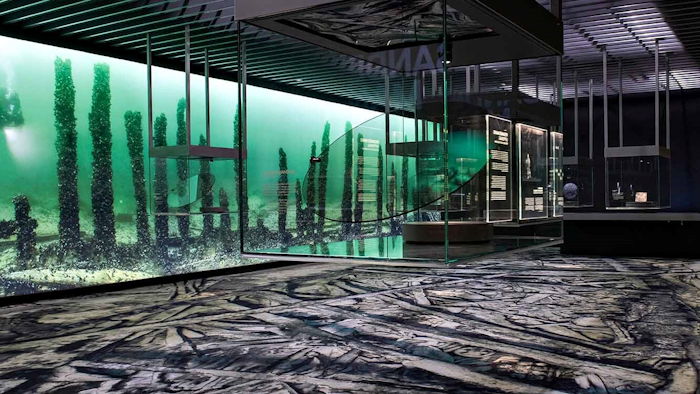 Be transported to the bottom of the Baltic Sea to explore the mythical wreck "Resande Man" at the new museum Vrak, Museum of Wrecks, in Stockholm, Sweden.
Through the use of holograms and an immersive film experience, visitors can move through the old shipwreck, which is featured in its real size. Upstairs, after the visitor has risen to the surface, there is the opportunity to explore a wreck through virtual reality dives, dive-in archives and games.
The museum is housed in an old boat hangar designed by architect Paul Hedqvist in 1941. The architectural firm Fahlander Arkitekter has carefully redeveloped the building with sustainable materials including concrete, oak, steel and glass, which have associations with the sea, ships and the seafloor. The museum welcomes smaller groups for special events and meetings. With its own café and bar, Museum of Wrecks can cater breakfast, lunch and dinners. The Museum of Wrecks is the sister museum of the Vasa Museum in Stockholm, and part of the Swedish National Maritime and Transport Museums.
>> vrak.se
>> Booth F3009