---
Storytelling—and listening—can reshape the workplace
---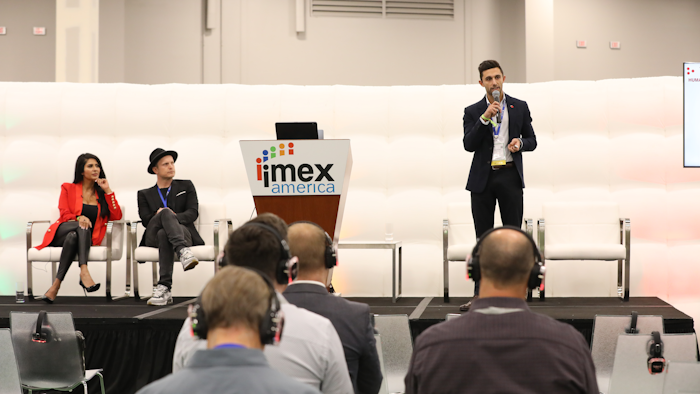 When you think of what goes into building a good work environment, odds are storytelling doesn't leap to the top of the list, if it makes the list at all.
But three speakers at Wednesday's session, "Human Nature: 3 Perspectives," made the case for why storytelling can and should be an essential part of a happy and healthy workforce.
Nisha Khare, director and co-founder of Human Biography, said the pandemic forced her—like it has everyone else—to reevaluate what is truly important in life, even if it's just the small things.
"What kept me going were thousand-piece puzzles, fuzzy slippers and weekly updates on my husband's favorite TikToks about aliens," she said. "They were all of these random things and I realized they were meaningful to us."
Khare said the pandemic is something that has touched everyone's lives in one way or another, for better or worse, but it has also showed how resilient we can be during dark and difficult times.
"No matter who you were or where you were, your world got rocked," she said. "And you were either baking banana bread, working pantsless in your living room or binging Netflix. Death had never surrounded us globally before. There was this loss of control. This loss of what we knew as normal. We couldn't ensure the safety of our family. We couldn't even ensure the security of our jobs. Could it get more scary than that?"
But Khare, who creates videos and hosts an online wellness series, said what she found when talking with people during these trying times was that people found ways to cope and not just survive—but thrive.
"We looked in the mirror and our bare selves looked back. There was no hiding, and our true selves came out," she said. "As humans, we have an innate desire to keep on keeping on. And we did. The human connection strengthened."
Rx Fogarty, founder of Dear World, which started as an art project in 2010 and has since become his life's work, said that giving people the opportunity to tell their stories has helped foster a deeper understanding of people and exploring human nature as a thing that connects us all.
He shared a story about a nurse in New Orleans he talked with about three months into the pandemic. The nurse told him about a woman who came in sick with COVID and whose husband was sick in the next room. A short time after her arrival, the woman had multiple strokes brought on by the virus, stopped talking and was barely breathing.
The nurse said the family—including her ailing husband—had to be brought in to make some tough decisions. The nurse wheeled the husband into the room in a wheelchair and was trying to get him close enough to hold his wife's hand, but the wheelchair was making it difficult and kept squeaking loudly in the otherwise silent room. It was a moment of levity in an otherwise serious time.
"She said when do you know it's time to just kind of stop and let life happen?" Fogarty said. "I suppose we let life happen and we've got to let the wheelchair keep squeaking, too. What I'm reminded of in these moments of crisis and seriousness is humor. I found it so sweet that this squeaky wheelchair allowed for the tension to break."
For Gian Power, founder and CEO of TLC Lions, 2015 did not bring much levity into his life. That year, his father was murdered in India and Power took three months off from work. Upon his return he tried to get back into a normal routine, but life had other plans.
"On my first day back, I thought I had everything under control," he said. "But on that day things changed. I lost a colleague to suicide. On the outside I was fine, but on the inside, I was starting to really, really break."
As the months went on, Power began to realize something about the people he worked with. Managers, leaders and colleagues started sharing stories with him. He wondered if there was more he could do with those stories to help other people.
Thus, TLC Lions (Lion is the middle name Power shares with his father) was born. Power said storytelling can be an important part of workplace culture and a key tool to use to build empathy.
"Every meeting and event and every conference that we're here in Las Vegas for, we need to be talking about this and sharing stories," he said. "For far too long, empathy has been seen as something soft, something fluffy. But for me it's a business skill. It's not just listening to someone else's story. It's stepping into their shoes. If we can invoke empathy as a critical skill, that's how we can make an inclusive place to work."
Power said he met somebody at IMEX this year who had seen his story and reached out. She lost her father earlier this year and, despite her image as a strong corporate woman, she was crumbling inside. Power said people need to become less afraid of sharing stories like that in order to make the working world a better place. 
"I truly believe that all of us here today can work together," he said. "We can humanize the working world and do that one story at a time."