---
Spreading cheer
ETHOS Event Collective enlists IMEX attendees to help deliver joy to hospitalized children in Las Vegas.
---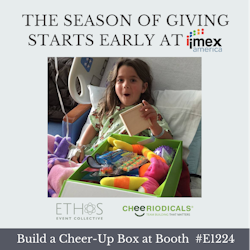 Celebrating their IMEX debut, ETHOS Event Collective is hosting clients and attendees at their booth to prepare gift boxes for patients at Sunrise Children's Hospital in Las Vegas.
"Supporting the people and places that make the meetings and events we create possible is paramount to our purpose," said Joe Fijol, principal at ETHOS Event Collective Florida + Las Vegas. "So it was important to our team to design our IMEX experience around giving back in the community."
In partnership with Cheeriodicals, ETHOS and their booth visitors are preparing 160 personalized cheer-up gifts during IMEX America. Leading up to the show, people were excited to get involved. Being the first group following COVID to be allowed to deliver these welcomed packages to patients at Sunrise Children's Hospital makes it even more special.
To celebrate, the team kicked off a social media campaign introducing their "CEO of Smiles," a stuffed frog that will be included in each box being delivered. These Cheeriodicals cheer-up gifts will have a bundle of age-appropriate crafts, activity books, puzzles, and games for children to enjoy, all carefully packed inside a keepsake green gift box.
"Cheeriodicals has worked with the leadership from ETHOS Event Collective numerous times over the years. I've been personally moved by their desire to include a give-back component in their work," said Gary Parisher, president of Cheeriodicals. "They continue to distinguish themselves by living out their purpose of making a positive impact in the communities where they work."
In light of the ongoing pandemic, the delivery of the gift boxes was made in adherence with Sunrise Children's Hospital's specific COVID-19 constraints and pre-set guidelines to ensure optimal safety for the recipient children.
"We are honored to receive this generous donation of Cheeriodicals from ETHOS and IMEX," said Allie Breckenridge, COO, Sunrise Children's Hospital. "The Cheeriodicals ensure our pediatric patients are entertained with age-appropriate items and help our patients still feel like kids during their hospitalization which is an important part of the recovery process."
As part of a long-standing national partnership with Cheeriodicals, Two Men and a Truck Las Vegas donated their services to transport the gift boxes to the hospital. IMEX America also contributed by waiving labor fees to move materials and donating space on the show floor for storage.
>> ethoseventcollective.com
>> Booth E1224