---
Ribbon-cutting today for Crowdfunded Clubhouse
Part of the IMEX-EIC People & Planet Village, the clubhouse social impact activity benefits a 5-year-old Las Vegas native with brain cancer.
---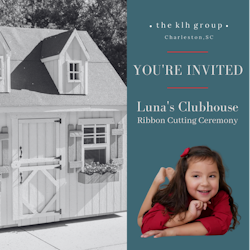 KLH Group, a Charleston-based full-service DMC and event production company specializing in luxury events that make an impact, will hold a ribbon-cutting ceremony at 11:15 a.m. today to unveil the clubhouse built on the showroom floor for Luna, a 5-year old battling brain cancer.
At the ribbon-cutting, guests will hear from KLH Group Founder and Principal, Hope Caldwell. Due to health and safety concerns Luna will not be able to attend the event in-person, but will participate via FaceTime. IMEX Group CEO Carina Bauer will also be in attendance.
KLH Group was invited to bring its signature social impact activity, the KLH Clubhouse Build™, to the event as part of the new IMEX-EIC People & Planet Village, which serves as an interactive, educational hub for all things sustainability, diversity and inclusion and giving back. 
"We are honored to have been invited to this year's IMEX America event," said Caldwell. "We can't wait to have guests see and experience the magic of this kind of hands-on social impact activity."
Throughout IMEX America, attendees have had the chance to add a nail, a swipe of paint or a bit of muscle to the construction of Luna's clubhouse.
>> klhgroup.co
>> Booth C0634