---
The GCB studies the future of meetings
Business travel remains attractive.
---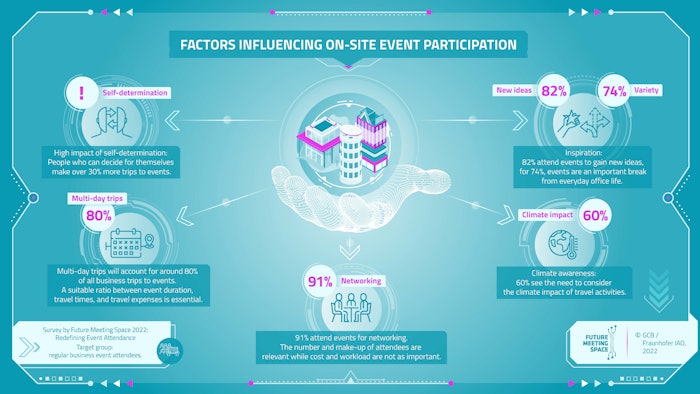 In its current research phase, "Redefining Event Attendance," the Future Meeting Space (FMS) innovation network is exploring why people choose to attend in-person business events. The GCB German Convention Bureau e.V. and the Fraunhofer Institute for Industrial Engineering IAO, together with their research partners, are looking to identify changing patterns in business travel and in-person event attendance.
New means of personal transport and increasing digitalization have considerably changed travel behavior in recent years, both personal and professional. Costs and benefits are increasingly being weighed against each other, especially for events that also offer online attendance.
"If we look at the potential of future business travel and events, we see that meeting interesting people and ample opportunities for networking are essential for making events attractive for attendees," said Dr. Stefan Rief, head of organizational development and work design research unit at Fraunhofer IAO.
The second survey of the current FMS research phase focused on the general attractiveness of work-related travel and how this contributes to recruitment and employee retention. The results show that people who say they enjoy traveling rank business travel as a factor for attractiveness of and loyalty to their employer in fourth place out of the 17 factors surveyed. 
>> gcb.de/en
>> Booth E2033