---
Responsibility is a matter of remembering your Rs
Visit the IMEX-EIC People & Planet Village, booth F706 in the exhibit hall, to learn more and see IMEX America sustainability in action.
---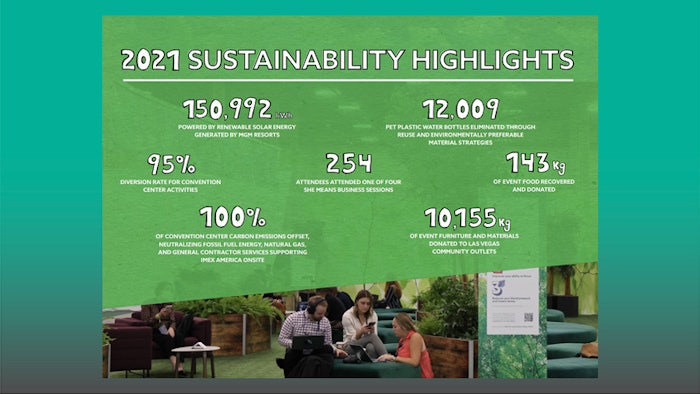 IMEX America takes its environmental responsibility seriously. For over a decade IMEX has been measuring and publicly disclosing the event's footprint. One of the core program mottos that's helped IMEX and sustainability consultants MeetGreen approach complex sustainability and operational challenges and make them a little easier to tackle is remembering the Rs. For IMEX America 2022, these are front and center in the sustainability strategy.
Rethink: Innovation in event sustainability intersects every corner of planning and production. The IMEX Green Squad and its network of supplier and venue Green Stakeholders ask each cycle, how we can approach sustainability challenges with fresh eyes? IMEX America is an event that generates a high volume of material donations. With over 2,200 exhibitors from over 190 countries, one of the greatest challenges has been determining who has items to donate, where they are located, and then removing the items from the exhibit hall during a fast-paced move-out. To help facilitate, the IMEX team has implemented a donations QR code, linked to a Smartsheet, which has substantially boosted the effectiveness and efficiency of this program. Since 2012, IMEX America has recovered and donated more than 49,000 kg of event furniture and materials to the Las Vegas community.
Reduce: Less things means less waste, less transport, and even less manufacturing. While IMEX cannot entirely eliminate exhibit hall carpeting near booths, given the many electrical access points and cable junction tripping hazards, IMEX are actively exploring ways to reduce it. This year's Food Court, in the back of Bayside F, is designed to be uncarpeted and will save an estimated 1,200 square feet of carpeting that would have been sourced, installed and transported. An estimated saving of 1,898 kg of CO2e will be made through this action alone, which is equivalent to about 4.5 barrels of oil consumed.
Reuse: To help mitigate those areas that must use carpet, IMEX have implemented a rental and reuse strategy, with about 85% of event carpet and padding being drawn from standard stock and then returned directly back to inventory after the event for use in future shows. Transport is also substantially reduced through warehousing just 15 minutes down the Strip from Mandalay Bay Convention Center.
Recover: IMEX venue partners at Mandalay Bay Convention Center hand-separate show waste back of house into recycling, compost, donations and landfill channels. In 2021, only 5% of IMEX America venue waste was sent to landfill.
Recycle: IMEX is trying its best to address waste at the source, and is extremely proud of its recycling and composting program. This is made possible through procurement planning with the MGM venue teams. Each cycle new products are piloted to see what will work best with both the event and with the local waste infrastructure.
Repeat: Often a lesser known "R," but one of the most important for IMEX sustainability is continuous improvement. IMEX America's sustainable events program and top tier results come directly from years of planning, execution, reflection, and repetition. It's this process of improving little by little each year that really adds up and helps advance industry practices.
Download the 2021 IMEX America Sustainability Report.