---
AI and the future of events
---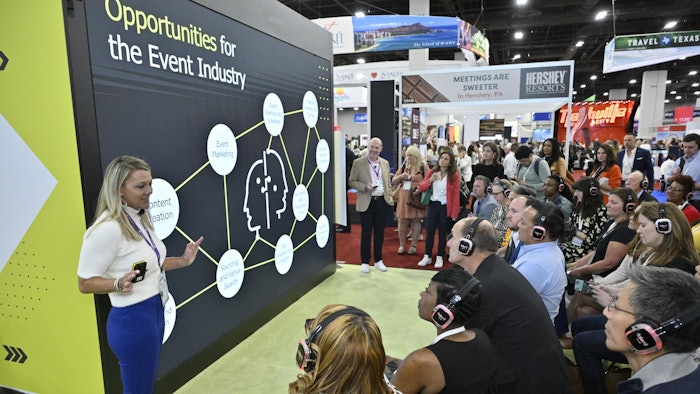 The topic of the year drew crowds to the Maritz booth on the first day of IMEX America 2023. With the bustle of the exhibit hall humming in the background, this standing-room-only Maritz-DRPG session squashed AI fears and concerns, and elevated understanding of its practical applications. Few hands were raised when John Wahle, CTO at Maritz Global Events, asked, "Who uses AI at work?" showing a thirst for knowledge and implementation across the industry, but a hesitancy to act.
The talk around AI in the last year has included conversations on the future of work, careers and job security. On career concerns, Amy Kramer, innovation leader at Maritz Global Events, offered sage words. "You weren't hired because you know how to write an email. AI is an ideas generator. It's there to enhance you, not replace you."
The session embodied a show me, don't tell me approach, offering ChatGPT for audience members to try out in real time. One participant asked, "Where can I hold an event in Florida for 400 people?" The application reeled off a list of potential venues in a matter of seconds. Speaker Amy Kramer asked the application to "Make an itinerary to see Las Vegas in a day." Before the audience could name even one Las Vegas attraction, ChatGPT had planned a whole day in detail.
From research to event marketing and content creation, this 20-minute AI showcase both educated and dispelled any AI concerns the audience arrived with. And it highlighted practical-use cases for AI in our day-to-day working lives. AI needs humans to succeed as much as humans think they need AI. To quantify, to craft, to add humanity, to enhance.