---
Business signed before the first coffee of the day
---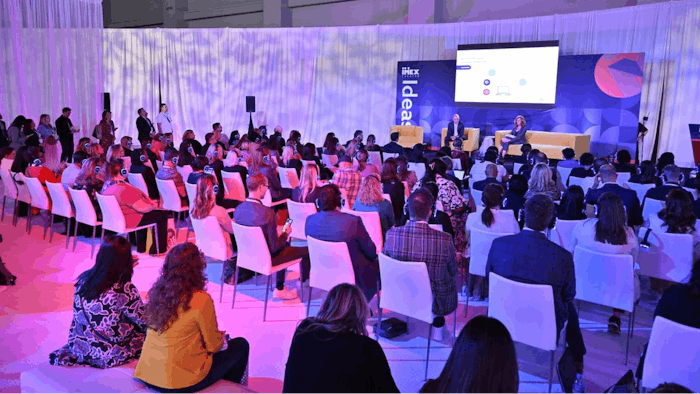 The business value of the industry coming together at IMEX America was clear to see within minutes of the 12th edition of the award-winning show opening on Tuesday. 
IMEX America, which runs until Thursday, Oct. 19, at Mandalay Bay, welcomed a vast, global array of buyers and suppliers eager to get down to business. 
London's ExCeL's Andrew Farrelly-Swanston explains: "I received a walk-up inquiry for a sales kick-off meeting for 2025—and that was before I'd even finished my first cup of coffee! I also bumped into a contact at the hotel check-in and we've arranged to meet on the show floor to sign a contract for a medical association event in 2026—talk about serendipity!" 
"Within the first thirty minutes of the show opening, we'd already had multiple unscheduled visitors representing some very high-volume meetings, who all gave us verbal commitments and solid next steps," said Silke Koehnecke, managing director of specialty sales for Southwest Airlines.
Challenges and opportunities
With business front and center, the 150-session strong learning program has been designed to enhance the thousands of meetings taking place. MPI previewed their latest Meetings Outlook survey, sharing the sheer scale of the sector: Out of the 336,000 jobs created in the US last month, 96,000 were in leisure and hospitality.* The survey revealed the current challenges faced by meeting professionals, which include budgeting, staffing and talent and client expectations, with cost management topping the list.
Managing costs was a hot topic at many of the show's learning sessions, including Savoring savings: how to navigate rising event F&B costs. Jaclyn Bernstein, Empire Force Events; Stephanie Krzywanski, JR Global Events; John McKinnon, ConferenceDirect; and Eating at A Meeting's Tracy Stuckrath delved into the complexities of managing annual cost increases and how to approach negotiations with hotels from a value-added point of view. The panel emphasized the value of collaborating with chefs and Conference Service Managers (CSMs) for dining options that are cost effective and creative, particularly by utilizing local and seasonal foods.
With a busy pipeline of events, planners are being challenged to flex their creative muscles time and again. Encore, leaders of in-person, virtual and hybrid events, delivered their newest interactive, event-design experience—Break Free: Continuing the Journey.
"Design thinking is one of the most powerful ways for event professionals to approach their events," said Anthony Vade, Encore event experience strategy director. "It allows them to navigate the complexities that exist in stakeholder relationships and find the most elegant solution to create the change that events need to create."
Maya Jaguar, transformation coach and interfaith reverend, also showed a way to breathe new life into events by leading an experiential ritual featuring drummers for an audience of 70+ people. Maya explains: "Rituals are a practice that are 70,000 years old but have real relevancy today. They're a gateway to the creative side of the mind as they fire up all the senses." 
This was one of several morning sessions that set the tone for a busy day focused on fostering better human connections and shared business benefits.