---
'You can't see the edges anymore!'
---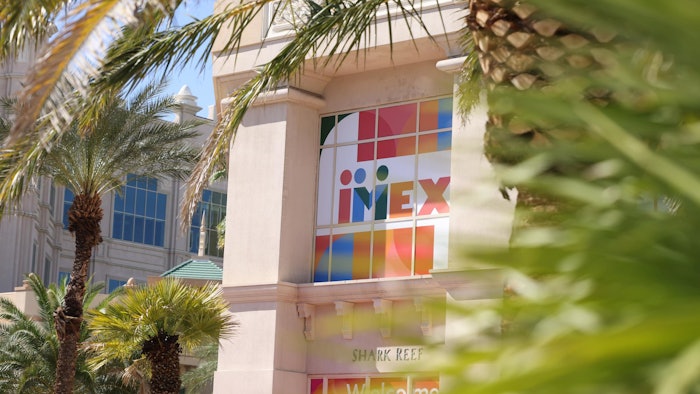 Marking our busiest show ever, an exhilarating, energizing and exuberant IMEX America 2023 epitomized the robust comeback of our global events industry. More than 15,000 suppliers and event professionals gathered at bustling booths, in aisles alive with conversation and in every corner of an expanded show floor—a floor that saw a 20% increase in exhibit space taken and a 9% increase in booths booked. Thousands (83,000, to be precise) of business meetings set the tone for a dynamic, productive powerhouse of a show.
"Within the first 30 minutes of the show opening, we'd already had multiple unscheduled visitors representing some very high-volume meetings, who all gave us verbal commitments and solid next steps."
Silke Koehnecke, managing director of specialty sales for Southwest Airlines
"I received a walk-up inquiry for a sales kick-off meeting for 2025—and that was before I'd even finished my first cup of coffee! I also bumped into a contact at hotel check-in, and we've arranged to meet on the show floor to sign a contract for a medical association event in 2026—talk about serendipity!"
Andrew Farrelly-Swanston, head of sales for conferences and events at ExCeL London
"I can tell you we really feel that this is the biggest IMEX ever! We can feel it because we can see it. There's a lot of buzz going on in all the booths—everybody's busy. We as a convention bureau, we're also very happy. It was the right decision for us to come here again." 
Simon Kromer, manager corporate for Vienna Convention Bureau
"The walk-up meetings have been as beneficial as our scheduled meetings—that was a hidden surprise for us! Our booth partners already have several RFPs in hand—for the first time since the pandemic. In four days, I've covered more business than in four months!"
Beth Olson, director of sales for Visit Santa Barbara
Our 150-session, six-track strong learning program kicked off with a stand-out Smart Monday, powered by MPI, and continued throughout the show at our largest-ever Inspiration Hub, sponsored by Webex. More than 2,000 people attended our innovation and experimentation-led program held in a variety of locations and formats including the Wellbeing Wheel, the Google Xi CoLaboratory and Encore's striking and immersive Break Free theater.
And even more made the most of the multiple multi-sensory IMEX experiences and activations, from Storycraft Lab's Experience Profile guides to out-of-this-world tours of the arresting AREA15 and spell-binding Sphere, to holographic HYPERSVN hellos and Seattle's soundscape posters.