---
A power-packed Smart Monday
---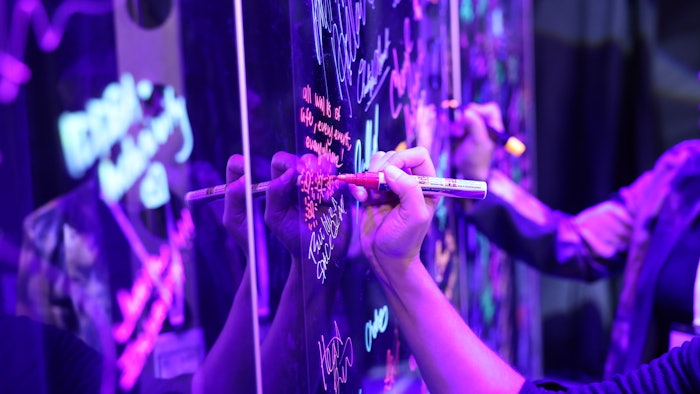 Booked-out, standing-room-only programs and sessions set the scene for a day of powerful insights, exchanges and unforgettable evening events.
Association and corporate event professionals made the most of on-point learning at the Association Leadership Forum (created by ASAE and sponsored by Amsterdam Convention Bureau), Executive Meeting Forum (hosted by Caesars Entertainment and sponsored by Three Forks Ranch) and at Corporate Focus. Our She Means Business (created by IMEX and tw magazine and supported by MPI) and AVoice4All programs made well-received returns, and Tucker Bryant's artist's guide to innovation kicked off our stellar MPI keynote series in inspirational style.
Evening events included the gorgeously groovy 70s inspired SITE Nite North America at The Palms, and the IMEX-icing on an already knockout Smart Monday cake—EIC's Global Awards Celebration at the Bellagio. It was a celebration that saw our very own CEO Carina Bauer inducted into the Hall of Leaders, and our former Director of Knowledge & Events, Dale Hudson, pick up the Pacesetter Award. We couldn't be more proud.
"I attended the business bootcamp for independent planners on Smart Monday and it was very informative. This is just the best place to come as an independent planner to get education. You just can't get it any place else."
Dee Dee Underwood, manager of CSK Travel Advisors
I attended the accessibility session. It was good to see things from so many different angles. The panels were amazing, and it was very interactive."
Alison Jayne, global sourcing director for Trademark Event Productions
 "At IMEX, we have a principle of sharing what we learn. Throughout my career I've been supported and inspired by others sharing their knowledge and experience. My father, Ray Bloom, is part of that roll call, and to join him as the first father and daughter inductees into the Hall of Leaders is something very special. As our sector continues to evolve, my intention is to ensure that we keep on looking ahead and welcome the new people entering our industry with a similarly collaborative and guiding spirit."
Carina Bauer, CEO of IMEX Group