---
Belfast hotels attain record sustainability standards
---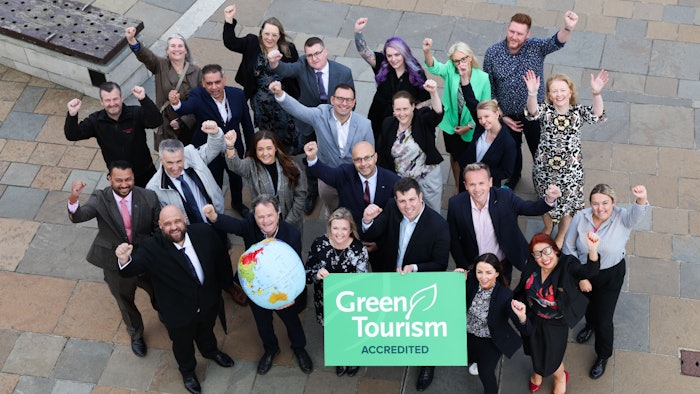 As of September 2023, a remarkable 75% of Belfast hotel rooms are officially accredited by Green Tourism, the global body that promotes sustainable and environmental standards across the global sector. The regional hotel industry has been ramping up its commitment to going green since forming a partnership with Visit Belfast, Belfast City Council and Green Tourism in 2021.
The Green Tourism Standard is one of the largest established certification programs. It recognizes organizations that operate responsibly, ethically and sustainably, contribute to their community, reduce their impact on the environment and aim to be accessible and inclusive to all visitors and staff.
Belfast City Council declared a climate change emergency in late 2019 and unveiled its joint Climate Plan in 2020. Since then, Belfast has made great strides in embracing sustainability and transitioning to a zero carbon and circular tourism and hospitality sector. Now, approximately 3,570 of its 4,800 hotel rooms are sustainably certified. Belfast also climbed 11 spots year-over-year on the GDS Index's Top 10 Most Sustainable Destinations list—ranking eighth in 2022.
"The commitment of Belfast's tourism and hospitality sector to support our ambitious sustainability journey is nothing short of remarkable," said Rachael McGuickin, director of business development, sustainability and transformation at Visit Belfast. "With our valued partners on board, we are not only improving our ability to compete globally for visitors and events, but we are also enabling Belfast to become a more sustainable place to visit, meet and live in."
Visit Belfast, in collaboration with Green Tourism and the Global Destination Sustainability Movement, recently published a sustainability whitepaper to commemorate Belfast's achievements and act as a blueprint to support the tourism industry's efforts to tackle the climate change challenge, drive sustainability and embrace net zero.
>> businesseventsbelfastandni.com
>> Booth E2130