---
BestCities and ICCA announce Impacts finalists and Seed Fund Grant winner
---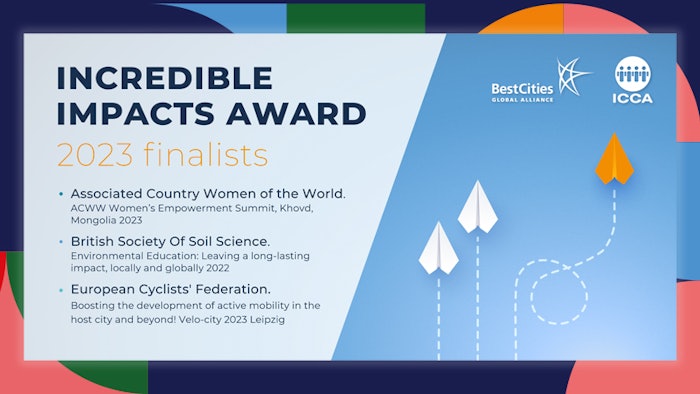 BestCities Global Alliance, in collaboration with the International Congress and Convention Association (ICCA), announced three finalists for the 2023 Incredible Impacts Program as well as the recipient of the Seed Fund Grant. These awards recognize the exceptional contributions of international association meetings in creating a lasting impact beyond tourism.
The finalists, selected by a judging panel made up of their association peers, are:
Associated Country Women of the World for the ACWW Women's Empowerment Summit in Khovd, Mongolia, 2023. The summit reached an inspiring milestone by extending into Khovd Province, Mongolia. The groundbreaking initiative brought together more than 300 women survivors of domestic violence from nomadic communities, reflecting their aim to empower rural women who often go unheard in legislation, promoting community transformation.
British Society of Soil Science for Environmental Education: Leaving a long-lasting impact, locally and globally, 2022. The British Society of Soil Science engaged local residents in soil education and conducted the first-ever environmental impact assessment of such an event. These outstanding achievements set a new standard for sustainable practices in the scientific community.
European Cyclists' Federation for Velo-city 2023 Leipzig: Boosting the development of active mobility in the host city and beyond. Working for more and better cycling for all, ECF has been dedicated to creating a more sustainable and livable future for over 40 years.
These finalists will advance to the Incredible Impacts session, to be held November 14 at the ICCA Congress in Bangkok, where they will present their submissions. The winner will be announced during the closing session of the ICCA Congress on November 15.
Seed Grant winner
This year's recipient of the $5,000 Seed Grant is the International Papillomavirus Society (IPVS) for its dedication and vision in contributing to the elimination of papillomavirus-related diseases, particularly cervical cancer. The grant will empower the society to further its legacy program, making an even greater and lasting contribution to the global community.
>> bestcities.net
>> iccaworld.org