---
Sonesta launches Sonesta Work Suite
---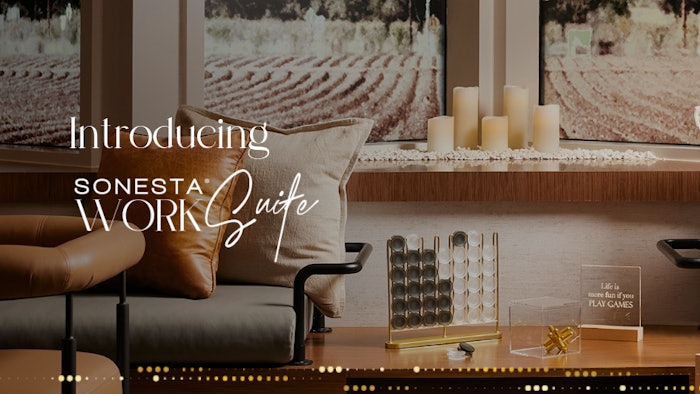 Sonesta International Hotels Corporation (Sonesta) announces Sonesta Work Suite, a new experiential, multi-zone meeting space concept that offers an elevated experience with an innovative meeting room design and services intended to enhance collaboration. Sonesta Work Suite is now available at Sonesta Hotel & Resort locations in Irvine, California; Charlotte, North Carolina; White Plains, New York; the recently opened Royal Sonesta Washington, DC, Capitol Hill; and in Sonesta corporate headquarters in Greater Boston.
Developed based on guest feedback, Sonesta Work Suite combines the qualities of traditional office and coworking space with best-in-class hotel amenities. 
Sonesta Work Suite accommodates groups of up to 50 and seamlessly optimizes the work and socialization experience. The new meeting concept features:
Reimagined multi-zone design: A unique multi-zone design offers a sophisticated and relaxing vibe that inspires varied working and collaboration styles and is the perfect place to meet, work and host a small group. The four zones feature:
WORK Zone: seating arrangements conducive to team meetings, sharing presentations and working as a group
COLLABORATION Zone: equipped with whiteboards, flip charts, dry-erase boards and more to help teams share ideas in dynamic ways
SOCIAL Zone: lounge furnishings that encourage relaxed postures for collaborative work, brainstorming and social connection
RECHARGE Zone: comfortable dining seating to unplug and grab a bite to eat to refresh, restore and keep teams fueled
Digital solutions: The space comes to life through intuitive, user-friendly technology solutions that enhance collaboration, drive productivity and allow attendees to stay connected. The technology includes high-resolution screens, fully integrated cameras and audio, wireless connectivity and opportunities for digital collaboration throughout the space.
In-suite food and beverage: Introducing the new "BITES & BEVS" program featuring a sleek, stylish in-room pantry station fully stocked with a selection of snacks and beverages, including delicious items curated to appeal to a variety of tastes and dietary requirements.
Experiential elements: Interactive, experiential elements include puzzles, brainteasers, stress relief novelties and other visual enhancements that boost creativity and spark conversations.
Booking ease: Meeting space can be booked for half or full-day meetings using a simple, flexible and frictionless booking system via Cvent Instant Book on Sonesta.com beginning later this month.
>> events.sonesta.com
>> Booth E1730