---
TMS completes largest transportation program at 2022 FIFA World Cup
---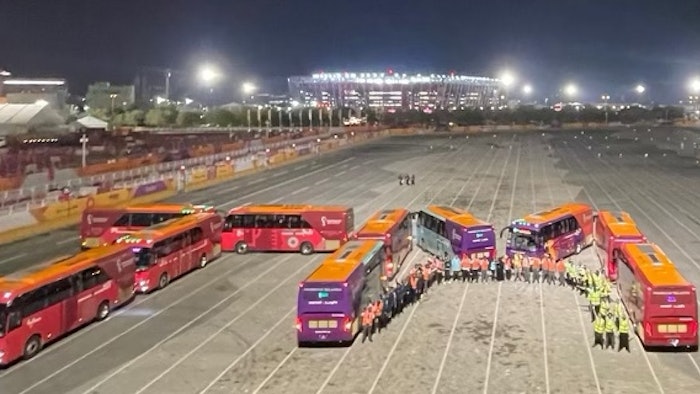 Mowasalat, Qatar's premier transportation provider, selected Transportation Management Services as its official partner for last year's FIFA World Cup. The collaboration, which was part of a three-year effort that began in 2019, successfully delivered a transport program that included new features for the global transportation community. For example, the event used the largest fleet of electric buses (800-plus) as well as the world's largest e-bus depot (located in Lusail), as certified by the Guinness Book of World Records.
TMS was on site for all transportation needs throughout the 29-day event. The global team consisted of local representatives as well as professionals from 48 countries and included more than 3,000 buses, 6,500 drivers and 2,900 operations staff.
All in all, TMS transported more than 5.5 million passengers during the World Cup. The program carried people to eight competition venues, two airports and numerous bus malls and transportation hubs throughout the city.
"The World Cup is like no other sporting event, drawing the largest crowds from around the world, and we were thrilled to be part of the event," said TMS Group CEO Frank Sherman. "After three years of strategic planning with our partners, it is an honor for it to culminate with such success. From our logistical team to the ground operators and the drivers, it has been an immense pleasure to see our global team come together with our partner Mowasalat to achieve such a historic accomplishment."
>> tms.com
>> Booth C4423