---
ZenSpace at IMEX 2023: revolutionizing meeting spaces
---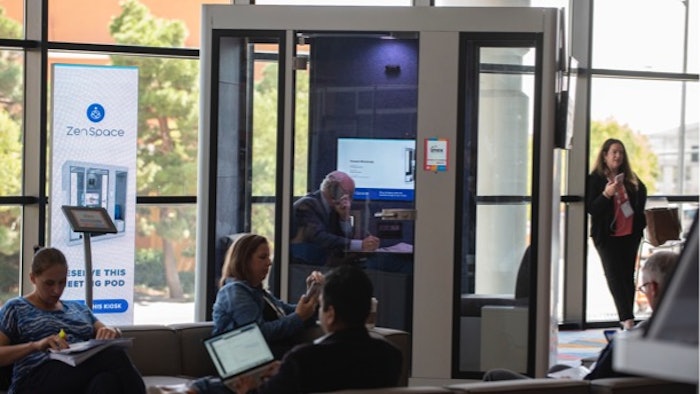 At the heart of every successful event lies effective communication, and ensuring privacy and convenience for these interactions is of paramount importance. Last year, IMEX America, one of the premier events in the business meetings industry, showcased exactly how this can be achieved.
A look back: The ZenSpace and IMEX 2022 partnership
As IMEX prepped for their show at Mandalay Bay Resort and Casino in Las Vegas last year, they were looking for ways to provide enough private meeting spaces for the burgeoning number of hosted buyers, exhibitors and attendees. Enter ZenSpace.
IMEX partnered with ZenSpace to integrate their state-of-the-art Smart Pods into the event infrastructure. These soundproof pods, tailor-made for meetings, became an instant hit. Available in various sizes and scattered strategically throughout the venue, they were always abuzz with activity, facilitating countless productive discussions. 
The pods are not just functional additions; they are also lucrative branding assets. Numerous sponsors can leverage them, augmenting event revenue streams.
Mark Mulligan, director of operations at IMEX Group, lauded the initiative, stating, "ZenSpace pods at IMEX really addressed a need for our attendees. The product is sleek looking and has sponsorship potential due to the high demand for Zen time during the show."
IMEX 2023 and beyond
The success story of IMEX America 2022 has set the stage for an even more promising IMEX America 2023. As ZenSpace continues to revolutionize the way meetings are held at events, you're invited to experience it firsthand.
>> zenspace.io
>> Booth E1565