---
SongDivision and Hard Rock offer songwriting sessions at IMEX America
---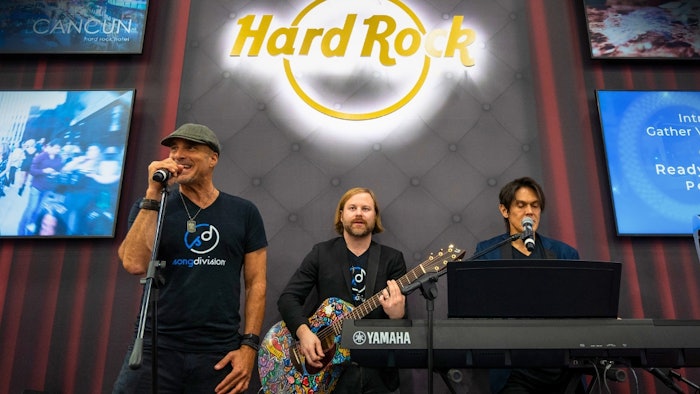 SongDivision, a provider of music-based team building and employee engagement, is partnering with Hard Rock International for a series of live songwriting sessions throughout IMEX America 2023.
SongDivision musicians, who have performed with Cher, Miley Cyrus, Prince and many others, will lead three, 30-minute Song Slam songwriting sessions at the Hard Rock International booth each day of the show.
Attendees will be empowered to craft their own unique songs and collaborate as teams, with songs centering around the theme of Human Nature. They will also have the chance to vote for their favorite song to be recorded in a professional music studio.
Carina Bauer, IMEX Group CEO, explains why Human Nature is IMEX's Talkng Point. "It's about what's good, constructive and loving about being human, our positive potential and ability to change, adapt and thrive," she said
SongDivision CEO Andy Sharpe said the sessions will present a unique opportunity for everyone who takes part.
"Our partnership with the iconic Hard Rock International through live Song Slam activations is set to be an engaging and fun feature of the IMEX show floor," he said. "This is an opportunity for everyone to discover firsthand how the science of music is enhancing the human experience and shaping the future of corporate engagement."
>> songdivision.com
>> Booth F1041