---
'It's no longer your parents' meeting'
---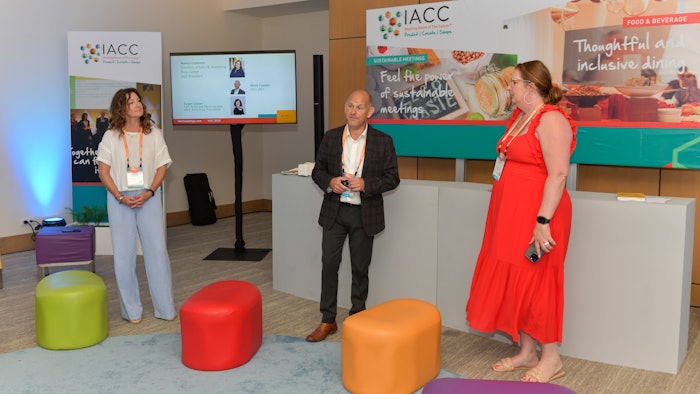 MPI is offering a variety of compelling educational topics at its booth throughout IMEX America, from leadership to belonging to wellness.
Today (Oct. 18), the MPI booth presenter is Mark Cooper, CEO of IACC, an organization MPI partners with on an ongoing basis. Cooper will be sharing key highlights from IACC's Meeting Room of the Future trends report, which features 275 meeting planner respondents from five countries. He also shared some thoughts about the report at a media preview during MPI's 2023 World Education Congress in June.
"It is no longer your parents' meeting," Cooper told media preview attendees. "But the more things change, the more they stay the same That's a really powerful statement in this research, because creating the meetings experience, creating a memory has been important for some time now—it's just how we do that. And we have to do things a lot more smartly, a lot more imaginatively to create that experience. It's not that it's old hat, it's just that we have to work harder to create what's always been important in live meetings. Maybe just magnify it a bit more."
Cooper said IACC findings indicate planners are looking for open spaces, specifically being outdoors.
"That is a legacy of the pandemic," he said. "Some of us always enjoyed the outdoors before, but many of us know really crave it in relation to meetings. That [message] came out loud and clear."
Cooper said planners are also looking for creative spaces to be able to create the memories.
"Creating a memory is all about stimulating as many senses as you can," he said. "Culinary taste, visual, acoustic, connections—meetings fulfill all of those."
Other key findings include the importance of creating an in-person event that would be really hard to deliver online and building relationships (not focusing on team building that simply forces people together).
>> mpi.org
>> Booth F431