---
2024 global forecast: Internal meetings and AI accelerate industry growth
---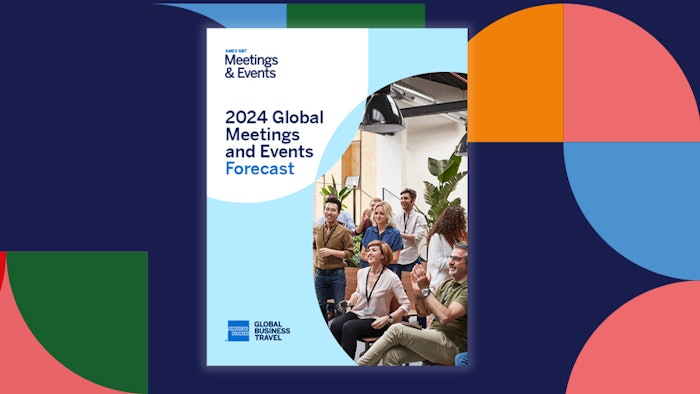 Internal meetings are expected to continue to significantly drive growth within the meetings and events industry in 2024. This is primarily driven by organizations seeking to build relationships and connect their distributed workforces, according to the 13th Annual Global Meetings and Events Forecast, produced by American Express GBT Meetings & Events.
The 2024 Forecast surveyed more than 500 meetings and events professionals from around the world, with additional commentary from more than a dozen industry leaders. Meetings professionals expect internal meetings to see the strongest growth of all meeting types, with 48% of respondents predicting more attendees next year.
Additional highlights from the 2024 Forecast include:
28% say programs have already met or exceeded pre-pandemic attendee levels, and 42% expect to reach that goal in 2024.
72% of meeting planners expect lead times in 2024 to be the same or shorter.
Only 25% said they were likely or very likely to look for a job within the next year; of those, more than 65% plan to stay in the same industry—further evidence that meeting professionals remain bullish about the future of the industry.
Gerardo Tejado, senior vice president of professional services for Amex GBT, said: "With more distributed workforces than ever, companies are re-evaluating the importance of internal interactions for team cohesion, productivity, creativity, engagement and employee welfare. It's never been clearer that in-person meetings and interactions are irreplaceable, with face-to-face connections and building relationships serving as cornerstones of personal and professional success. Our forecast indicates that 2024 will be a dynamic year—not only are budgets and attendee numbers rising, but we're also seeing technology adoption accelerating dramatically."
Technology is bridging the gap
Technology is expected to make major changes in the way meeting professionals do their jobs, including destination research, event communication and registration automation. Artificial intelligence (AI) is increasingly used for personalized attendee communications; 42% of respondents say they expect to use AI in 2024. Mobile apps continue to be a staple in meetings and events, with a predicted usage rate of over 60%. Meeting professionals are also continuing to experiment with virtual reality technologies, with 41% of respondents expecting to use it next year.
Sustainability adoption continues to rise
Most meeting professionals (78%) said their organizations would have net zero goals by the end of 2024. However, that doesn't happen without a few challenges noted from respondents, including identifying certified suppliers (39%), budget (35%), measuring impact and post event CO2 calculation (32%), finding locations with minimal travel (28%) and lack of skills/resources/knowledge (23%).
Download the full 2024 Meetings and Events Forecast here.