---
Kuala Lumpur Convention Centre GETs serious about sustainability
---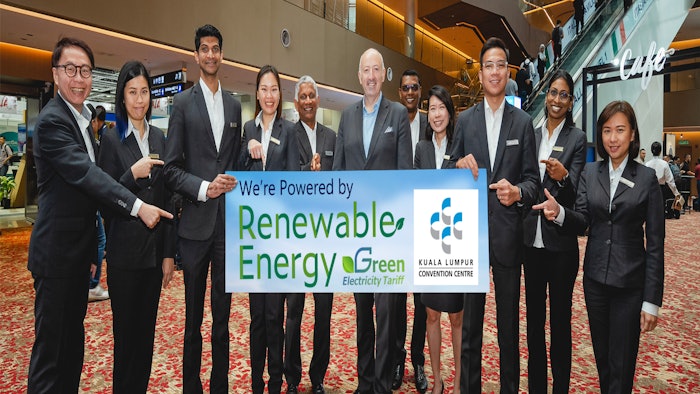 The Kuala Lumpur Convention Centre has achieved a pioneering subscription to the Green Electricity Tariff (GET), an innovative and transformative program launched by the Malaysian Government and Tenaga Nasional Berhad (TNB), the nation's largest electricity utility company. This subscription will supply the Centre with renewable electricity.
The GET Program was created to empower electricity users across Malaysia to reduce their carbon footprint. Through this initiative, the Centre can now power its facilities and events with renewable energy resources sourced from solar power plants under Malaysia's Large-Scale Solar (LSS) Program and TNB's hydropower and renewable energy plants.
Notably, the Kuala Lumpur Convention Centre stands as the first business events venue in Malaysia to be approved for participation in this environmentally conscious initiative.
John Burke, general manager of the Kuala Lumpur Convention Centre, said, "In line with Malaysia's sustainability agenda and the guiding principles of our industry and owners, our objective was to shift at least 25% of our energy to renewable sources by 2030, but the subscription to GET has enabled us to do this much more quickly. By subscribing to GET we have ensured that our clients' events will be powered by green energy, and we are now working to build on this achievement by hitting our next target, which is to reduce overall power consumption by 25% before 2030."
>> klcconventioncentre.com
>> Booth C4258