---
Almanac X Alcron Prague displays revitalized design
---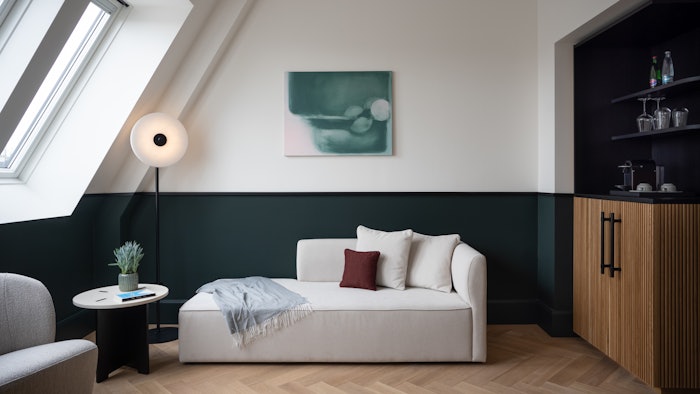 Photo courtesy of SIVAN
In March 2023, the Prague hotel Alcron reopened as Almanac X Alcron Prague. Located in the center of the booming European metropolis, the iconic hotel underwent a complete renovation of all its rooms and social spaces. The revitalized design is the work of Spanish studio Tres Cinco Uno and was created in collaboration with Czech architects from studio Marani.
The original Hotel Acron opened in the 1930s and was a remarkable treasure trove of Art Deco style. Original elements have been preserved and combined with new contemporary concepts. Modern works by several renowned Czech artists decorate the property and celebrate its historical legacy.
A 26-foot, custom-made mural created by Lucie Jindrák Skřivánková stands out as the primary feature of the new design. The distinctive abstract structural painting welcomes guests to the hotel as they check in at reception. Other works by Lucie, including interactive 3D works, can be found throughout the hotel lobby, as well as in the presidential suite, Almanac X rooms and deluxe rooms.
Original works by Patrik Kriššák line the walls of the hotel's marble staircase, the Alcron Restaurant and the executive suites. The artist's collection reflects on climate change and depicts a coral reef ecosystem that shows the beauty, vulnerability and transience of the underwater world. Environmentalism and sustainability are key values of the Almanac X brand.
Additional paintings by Alžběty Josefy and Michaela Červená adorn the various suites. The Czech Republic's rich glassmaking tradition is also on display throughout the hotel. Studio Salanský created a limited collection of 20 glass vases, planters, bowls and other objects for the hotel lobby and restaurant. In its entirety, the recently renovated Almanac X Alcron Prague reflects the luxurious collection of Almanac X hotels, which is owned by the Viennese Haselbacher family.  
>> almanachotels.com/praguex
>> Booth E1623